"The cork yoga mat was my first mat. The alignment cues helped me learn proper form, the surface allowed me to easily adjust, and the performance in heated classes was amazing. It is still my favorite mat years later to the point I sacrifice other items when I travel to take this with me. From the beaches in Costa Rica to the mountains of Colorado. This mat has never let me down.
– Vince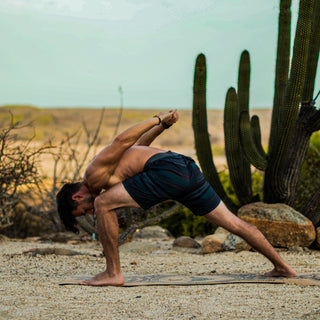 Cleaner Oceans
2kg or 160 bottles equivalent pulled from our oceans with each purchase. Sea creatures everywhere will thank you.
Grip When you need it
The key differentiator of a cork mat vs any other mat is it's ability to repel moisture. This is achieved by releasing suberin, which in turn increases your grip in those sweaty situations.
Ready for adventure
Durable, Low Maintenance, Extra Cushion make this mat a treat on a trip. Use it below your sleeping bag or flow by the ocean. It's ready to go wherever you take it.