About Us
2nd Wind Health & Wellness was born out of a desire to help people stay fit and do what they love for longer periods of time. After suffering a snowboard injury, owner Vince, a veteran and now yoga instructor, discovered the need for eco-friendly, non-toxic yoga mats that perform well in different styles of classes. He realized that many mats on the market were made from toxic materials and would take thousands of years to break down in regular landfill conditions. This led him to design his own line of high-performance yoga mats made from sustainable materials, each with a unique focus to accommodate different styles of practice.
The first mat in the lineup was made of cork, which quickly gained recognition and was ranked 2nd best overall by world-class instructors in its first year, surpassing some multi-million dollar companies. Over time, Vince introduced more mats to the lineup, all of which are eco-friendly, non-toxic, and have a traceable impact in sustainability. With the belief that yoga can be used as a springboard to help people do what they love longer, 2nd Wind Health & Wellness strives to empower its customers to live their best lives with confidence and sustainability. The company is proud to be a small part of each customer's practice and aims to be a company that customers can be proud to support.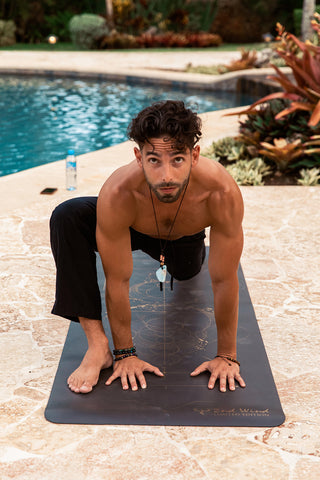 Meet vince
The founder and owner of 2nd wind health, a yoga mat and wellness company. With a strong background in the military and a passion for yoga, Vince has dedicated his life to promoting mindfulness and wellness. He is the proud owner of Phoenix Rising, a yoga studio where he teaches his unique approach to yoga, which combines movement, breath, and mindfulness.
Vince's love for travel has taken him all over the world, inspiring his photography and his approach to teaching yoga. He believes that yoga is a powerful tool for personal growth and transformation, and he is committed to making it accessible to everyone.
When he's not on the mat, Vince enjoys spending time in nature with his dog Luna, hiking, and exploring new places. He is also deeply committed to sustainability and making the world a better place, one day and one yoga mat at a time.